Hair tends to give us a hard time. It likes to get frizzy and split, and we usually blame the products. Surprisingly, they aren't always the wrongdoers. See 10 things that cause damage to your strands – you may be taken aback by some of them!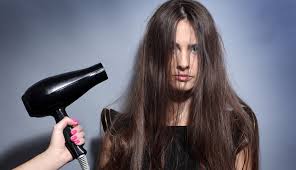 Theoretically, we know it all about hair care. We know that hair needs hydrating, nourishing and protection e.g. against the sun. We know that products must be suited to the type of hair and its needs. We know we can easily cause damage if we care for it incorrectly. In practice, few people know the real causes of hair damage. See a list feat. things that damage your strands and you had no idea about that!
What causes damage? The most common reasons why hair is getting worse
1. Mismatched hair-care products
First of all, the top cause of hair damage – wrong products. If your hair is frizzy after using some shampoo or conditioner, this means you fail to suit the products to the needs of your strands. For example, you overload the hair with proteins because you use repair treatments while your hair may need hydration rather than repair. That is why you must observe your strands and the way they react to products you apply – using the ones that make the hair prettier and better is the best approach to take.
2. Wrong hairbrush
There are lots of hairbrush guides but it seems like the topic still needs some explanation. What's the best hairbrushing tool? It obviously depends on your hair type. If it's fine, reach out for a natural-bristle brush. If it's thick and curly, use a wide-toothed wooden brush. The key thing is you pick accessories that let you easily brush the strands before and after washing without pain and pulling.
3. Tight updos
Wearing tight updos is another reason why hair gets worse. Note: the more you pull the hair and the longer you wear it tight, the worse the hair follicles are. In turn, hair is in worse condition and starts thinning. Summing up, your strands feel better if you wear them down or put them up in a messy bun/braid.
4. Plenty of accessories
Are you aware that different types of accessories are among the top enemies of hair? Combs, bobby pins, scrunchies and metal or plastic elements on them in particular – each one is a potential hair destructor that may pull, break and catch on your hair. That is why it's so important to use hair ties made from soft material or invisibobbles.
5. Shampooing all wrong…
Washing the hair improperly is yet another hair-damaging thing. We rarely pay attention to the temperature of water while too hot water is likely to dry out the strands. Also, vigorous rubbing, and towel-drying the hair to get rid of the water excess causes damage. The choice of the right shampoo matters enormously too – natural product is better because dryness is often caused by ingredients such as SLS, SLES, alcohols, etc. You must also remember you can't over- or under-wash your hair.
6. Wrong blow-dry technique
After shampooing you usually reach for a dryer and this is the moment when you risk making another mistake leading to dryness. The high temperature is your hair's biggest enemy so hot air blast easily damages the strands. Ideally, let your hair air-dry or set a cool air flow on the dryer.
7. Combing the hair incorrectly
Even brushing needs a skill because it turns out to be another possible hair-damaging factor. Obviously this is connected with the previous point about the accessories. Without the right brush, you can easily break, pull out and cause damage to the hair while trying to detangle the knots.
8. No regular trims
The everlasting dilemma that all hair-care junkies face: to cut or not to cut? There is just one simple answer: cut the ends off! Regular trims let you keep the hair in good condition so it doesn't lose nutrients or water. Even if your hair ends aren't extremely damaged, it's good to get them cut to keep the nice shape and make the hair look strong, healthy and pretty.
9. Chemical processing
The list of hair-damaging factors must include procedures such as color-treating, bleaching, permanent wave or extensions. Each of the treatments may leave your strands very dry, brittle and thin – you just need to get them done regularly and never repair the hair after the procedure. If you go for some treatments, make sure you find a professional because wrongly-performed procedure causes hair damage very often.
10. Weather conditions & other aggressors
Last of all, remember that products, chemical processing or our daily choices aren't the only things that make our hairdos worse. External factors – such as weather conditions – cause damage too. The sun is one of the enemies so we must protect the strands against UV rays. The wind, freezing weather, even stress or hormonal changes may worsen the condition of hair.