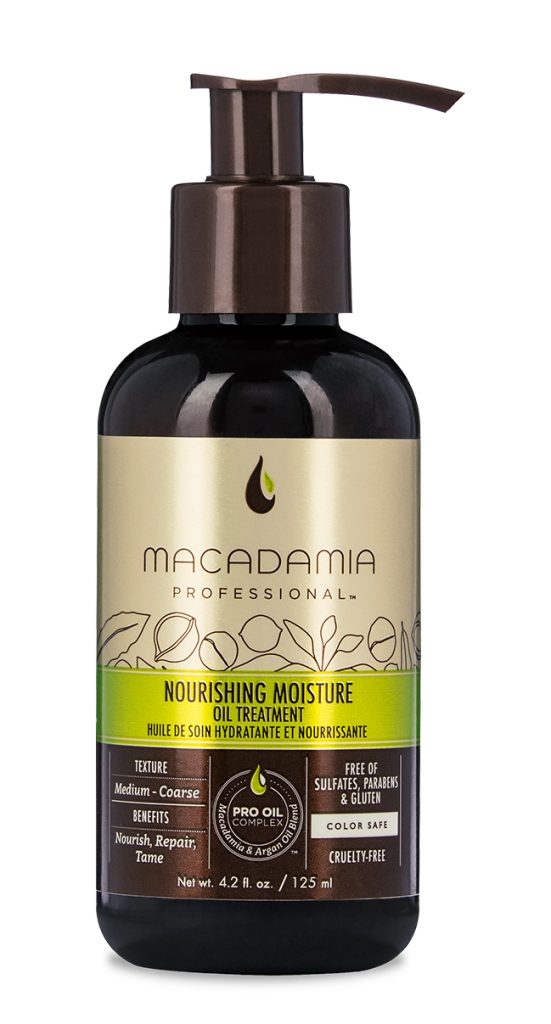 Nourishing oil for hair with gloss restoration
As the name indicates, this product by Macadamia Professional is based on precious macadamia nut oil. This is one interesting oil, which you can find in many cosmetics. Mostly thanks to this oil, all Macadamia hair oils, including Nourishing Moisture Oil Treatment, are so popular among women. Check out if you like it as well.
Oil available in two volume versions: 30 ml/1 fl. oz. and 125 ml/4.2 fl. oz.
How does Macadamia hair oil work?
Macadamia Professional Nourishing Moisture Oil Treatment was designed as an answer to normal hair needs. Hair sometimes lack hydration, lightness or gloss. This is where Macadamia hair oil can help. After its use hair is well moisturised, velvety smooth and soft. It is easier to comb it. Present itself better, because hair oil extracts its natural and beautiful gloss. Cosmetic has more than superficial action.
Nourishing Moisture Oil Treatment is a product, which can easily be used on dry and damaged hair. Why? Its formula takes care of more than right hydration in cells. Nourishing hair oil by Macadamia regenerates and strengthens hair fibre, but also protects it against unfavourable UV radiation.
Healthy and beautiful hair is light. Easier to comb hair stop frizzing and is smooth thanks to oil.
What oils in the composition?
Macadamia Nourishing Moisture Oil Treatment contains exclusive Pro Oil Complex. It practically means two hair oils with intense action. The most important is characteristic to this brand, macadamia oil, which is accompanied in this cosmetic with argan oil. The formula was enriched with vitamin E, but also silicones, colourants, fragrances and preservatives.
What should you know about Macadamia Oil Treatment?
Formula:
Macadamia Nourishing Moisture is a hair oil for medium thickness hair. It has slightly more full bodied formula than similar products, and in spite of it absorbs great. It does not cause any greater problems when it comes to the application, which is brighten by an incredible aroma. Macadamia hair oil smells really nice.
Packaging:
As it should be for natural oils based cosmetic, the packaging of Macadamia Oil Treatment is dark. In this case, there is no dark glass used, but dark brown and quite thick plastic. The bottle is solid and protects product really well. There is no fear as to breaking it, which is of great significance when using greasy oils. On top of it, the packaging has elegant design in shades of brown and green.
Application:
Macadamia Nourishing Moisture shouldn't case any greater problems in case of application. Prior to administering it on hair, you need to wash and dry your hair. In dry strands, avoiding the scalp, rub 2-3 drops of Macadamia. This cosmetic is suitable for application an wet hair as well. Then its action is more intense and deeper.
PLUSES:
consists of macadamia and argan oil, easy application, for all hair types, can be applied on wet and dry hair, smells great, regenerates and protects hair, beyond superficial action, available in two sizes, convenient packaging
MINUSES:
costs much, small number of oils in the composition, silicones and preservatives in the composition, not for use on scalp, could be a bit more runny.