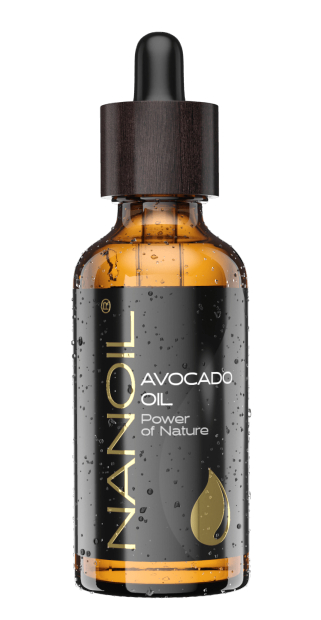 Oil for weak, thinning, brittle, harshly damaged, sensitised hair and delicate scalp prone to allergies and atopic dermatitis.
Nanoil Avocado Oil has 50 ml.
How does Nanoil Avocado Oil work?
Avocado Oil is one of six most popular beauty oils used for hair care (as well as skin and nails). Extracted from green avocado pear, this oil is labelled superfood and it really gives super effects, especially for super damaged, dry and brittle hair. This oil has antibacterial, antiviral and antifungal effect, therefore it cleanses scalp and protects it. What's more, Argan Nanoil strengthens hair follicles and stops hair loss.
It is a source of natural antioxidants, repairs, delivers gloss, smoothes and prevents damage.
Nanoil Avocado Oil easily penetrates and intensively moisturise dry skin and hair, revitalizes, protects from pollution and sunlight, nurtures follicles and block hair shedding. It also stuns in face and body care, working well for dry, aging, sensitive skins and handling first face lines. What's more, this oil holds the Ecocert label – highly-recognized certification given only to high-quality natural skin and hair products.
Which oils does it contain?
Nanoil Avocado Oil is the finest quality natural beauty oil which has been carefully extracted so as to contain nothing but pure avocado pear oil filled with unique vitamins (A-B-D-E-H-K-PP). You should know that no other oil has so many vitamins and minerals, and that's why it's labelled a vitamin-rich all-purpose nourishing elixir (which indeed gives hair as well as face and body skin benefits). Dreaming of luminous, healthy, strong hair and flawless skin free of discolouration and other blemishes? Avocado Oil by Nanoil is cut out for you.
What should you know about Nanoil Avocado Oil?
Formula:
Heavier than argan oil yet not thick, pretty light. Thanks to that, this oil glides on hair and skin, not dripping down at the same time. It's fast-absorbing and forms a thin coat protecting skin and hair from damage and harmful effect of toxins.
Packaging:
Lovely, elegant, neat. Nanoil Avocado Oil comes in black vial made from pharmaceutical glass protecting the precious liquid from the sunlight and rancidification. It has a glass dropper which precisely doses every drop of the oil that matters most when you add it to DIY cosmetics or mix with a moisturizer.
Application:
Child's play for everyone thanks to two things: oil's density and precise dropper.
PLUSES:
100% pure organic avocado oil of Ecocert certified quality, brilliantly enhances hair care if your hair is sensitized, normal or has poorer condition, it's a saver for damaged, dry, highly-porous, over-processed hair prone to breakage, improves the looks and leaves hair smooth and soft, it's efficient and quickly-absorbed, it's kept secure from the sunlight and going rancid thanks to dark glass bottle
MINUSES:
unavailable at brick-and-mortar stores; it's a bad choice for thick, easily-weighed hair having low porosity, it's likely to overburden very thin and delicate hair – if that's your type, use it less often or mix it with a lighter oil or flower water
More information here www.nanoil.co.uk/avocado-oil