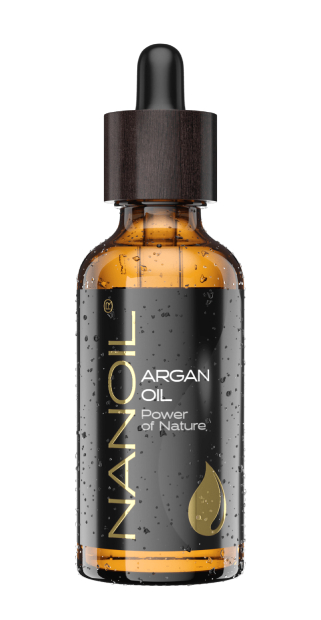 Oil for all hair types, including dry, thin, fragile, weak, damaged, aging hair.
If you're seeking pure finest-quality organic certified oil without needless additives – you're in the right place. Nanoil Argan Oil provides the standard of hair care that is going to meet your taste and expectations. It's the best thing you can treat your hair to: organic, cold-pressed, unrefined oil.
Actually, it's not only a hair product. It works incredibly in face, body and even nail care.
Nanoil Argan Oil has 50 ml.
What's the effect of Nanoil Argan Oil?
Works both on inner and outer hair structures, including follicles. The oil strengthens, repairs and stimulates to work, which makes it a perfect hair growth oil. At the same time, it keeps hair from falling out and is a cure for seasonal hair loss. Argan Oil leaves hair silky smooth, adds gloss and charm – a fifteen-minute hair mask with a bit oil acts as intense therapy which improves the looks and hair structures. Hair is now softer, smoother and bouncier.
Nanoil Argan Oil is a top choice among girls. The power of argan is appreciated by every woman, no matter how damaged or unruly her hair is. The oil also works when your hair isn't that problematic but you want to keep it healthy protecting against outside factors. There's even more to wonderful argan, though. The oil works on keratin hair scales: secures hair stem from sun damage, UV radiation, hot blow-dryer's air, minus temps, air pollution and toxins. It's a beauty essential in every bathroom. All the more so because Nanoil Argan Oil is a pure organic cosmetic without any silicones or parabens. That's why it is also an excellent skin enhancer and therapy for extremely damaged nail plates.
What oils are included in the product?
Nanoil Argan Oil doesn't contain any additives, parabens, alcohols or silicones. In other words, there is nothing that could keep the most valuable beauty oil from showing its power and potential.
Argan oil itself is like treasure trove of amazing substances (as many as one hundred have been discovered; the research on the gold of Morocco is still being carried out). That's why you should know that argan oil has higher vitamin E concentration than olive oil, and contains perfect composition of fatty acids that our bodies cannot produce themselves. This oil is also rich in natural sunscreen, lots of anti-free radical polyphenols, phytosterols and flavonoids which enhance repair and proper functioning of skin cells.
What should you know about Nanoil Argan Oil?
Formula:
Nanoil Argan Oil is a lightweight formula having moderate density. It's greasy but it isn't thick like castor oil. The product is free from silicones and thus is gentle and light, quickly absorbed and easily penetrates skin and hair.
Packaging:
Lovely, elegant, neat. Nanoil Argan Oil comes in black vial made from durable glass protecting the precious liquid from the sunlight and rancidification. It has a glass dropper which precisely doses every drop of the oil that matters most when you add it to DIY cosmetics or mix with a moisturizer.
Application:
Extremely easy, comfortable and trouble-free. The oil – like other oils in the ranking – is greasy so you need to be careful not to dirt the clothes. On the other hand, the light formula of this oil lets you evenly spread it on hair and scalp as well as body and face (if you decide to use full potential of Nanoil Argan Oil).
PLUSES:
100% pure organic argan oil of Ecocert certified quality, brilliantly enhances all hair types (ranging from thin, delicate, sensitive or normal strands to thinning, damaged, dry, brittle, over-processed hair and splitting ends), improves the looks and leaves hair smooth and soft, it's efficient and quickly-absorbed, it's kept secure from the sunlight and going rancid thanks to dark glass bottle
MINUSES:
unavailable at brick-and-mortar stores; it might be a bad choice for easily weighed down hair having low porosity