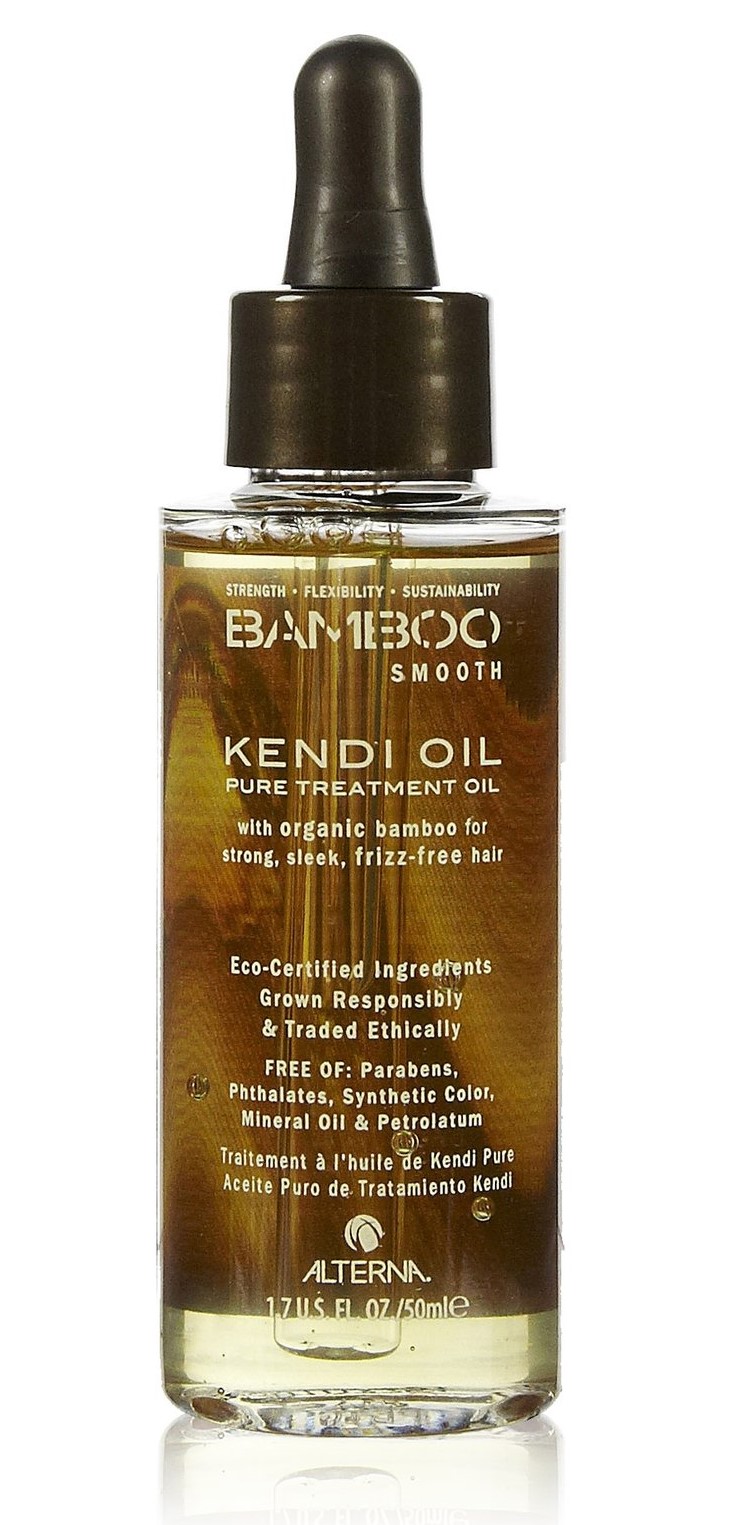 Smoothing hair oil against frizzing
Kendi Oil Ultimate Frizz Control is a hair oil by Alterna, which is a true synonym for professional and ecological approach to cosmetic production. This is why Bamboo Smooth has such a curious formula and action, loved by world famous hair stylists. If you want to feel like a star, read below information on Bamboo Kendi.
Oil available in two volume versions: 50 ml/1.7 fl. oz. and 168 ml/5.7 fl. oz.
How does Kendi Oil work?
Bamboo Smooth Kendi Oil Pure Treatment Oil is a product with intense strengthening and moisture for hair. Thanks to the fact that it contains ingredients with high content of essential fatty acids, it nourishes hair from the inside and out. Therefore, it impacts hair strengthening. Bamboo Kendi Ultimate Frizz Control protects hair against breakage and split ends.
Hair are visibly more regenerated and in better shape.
Bamboo Smooth Kendi Oil prevents fly-away hair and frizzing. It definitely smoother hair in a great way and provides it with silky softness. Visibly smoother and heavier strands are also much more glossy. Bamboo Smooth Kendi Oil Pure Treatment Oil ensures protection against harmful sun radiation and high temperature. Perfectly works on hair requiring protection.
What hair oils in the composition?
Bamboo Smooth Kendi Oil has very interesting composition. The most important ingredient is organic bamboo extract and Kendi oil. Beside these, Bamboo Kendi consists of sunflower oil, buriti oil, jojoba oil, kukui oil, grape seed oil, olive oil, avocado oil, maracuja oil. Additional ingredients are, e.g. glycerine, vitamin E, minerals and several silicones which open the composition. Alterna Bamboo Ultimate Frizz Control does not contain parabens, phthalates, foaming substances and preservatives.
What should you know about Bamboo Smooth Kendi Oil?
Formula:
Alterna Bamboo Smooth Pure Treatment Oil has nice texture. It is colourless, runny and very light oil, so it administers great on hair. What is more, it covers hair with fresh and gentle scent of young bamboo shoots. The fragrance is one of best qualities of this product.
Packaging:
Alterna Bamboo Kendi Oil is a cosmetic in transparent, plastic bottle. Both the big one and the small one versions of this product have the same brownish colour. They fit in hand perfectly. One was complemented with a pipette and the other with a pump for more precise dosage.
Application:
For one application, 4 drops of Kendi Oil Pure Treatment are enough. Just apply it on washed and still damp hair. However, if you need intense strengthening treatment, you should consider massaging oil in the scalp. When oil will absorb, just comb hair thoroughly.
PLUSES:
consists of plenty natural oils, based on bamboo shoots extract, smells fresh, has light consistency, easy to apply, available in two sizes, recommended by hair stylists, efficient, handy packaging, free of artificial ingredients
MINUSES:
costs a lot, silicones, can weight fine hair down, not suitable for scalp oiling