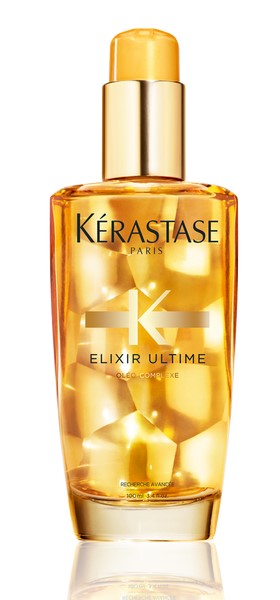 Versatile oil for hair
Hair collection Elixir Ultime by Kerastase is a must have proposition in hair salons. Hair oils from this brand amaze women all around the world. It is a tempting promise of beautiful hair, that you can gain thanks to this luxurious oil complex. Read below, what hair oils by Kerastase have to offer.
Oil available in only one volume version: 100 ml/3.4 fl. oz.
How does Elixir Ultime oil work?
Elixir Ultime Oleo-Complexe is a universal oil for hair care. It contains natural oils composed in a way that provides hair with luxurious care. Nourishes, moisturises and protects against harmful impact of unfavourable factors. It extracts natural beauty of hair, while adding stunning gloss. It makes hair smooth and elastic.
Most of all, Kerastase Elixir Ultime Oleo-Complexe improves hair appearance.
It has to be also mentioned about what Kerastase can do on the inner hair structure. Because the superficial action is the most important here. Elixir Ultime Oleo-Complexe is famous for great nourishment, hydration and regeneration. This oil perfectly penetrates inner hair structure, where it creates strong net. At the same time it ensures thickness and volume, while its restorative action is observed in hair appearance.
What hair oils in the composition?
Kerastase Elixir Ultime is based on the Oleo-Complexe technology, i.e. the combination of precious oils. There are maize oil, argan oil, camellia oil (also called tea seed oil) and pracaxi oil. Each of them has different, invaluable properties, which were complemented with few silicones and alcohol (sadly).
What should you know about Kerastase Elixir Ultime?
Formula:
Kerastase Elixir Ultime Oleo-Complexe is a colourless hair oil. Its consistency is quite runny and silky, what contributes to greater problem with application. Big plus is its gentle and pleasing scent, which lasts long after application and covers hair with nice aroma.
Packaging:
Characteristic to Kerastase manufacturer are heavy, glass bottles. Kerastase Elixir Ultime hair oil has the very bottle. Unfortunately, this is not the best solution when it comes to the greasy oil. Breakage of the packing seems inevitable and even golden cardboard box protecting the bottle will not help. It is good that the bottle has convenient pump.
Application:
Elixir Ultime Oleo-Complexe can be used several different ways. Few drops before hair wash apply for easier removal of stylisation cosmetics residues. After hair wash, but prior to hair drying to intensify nourishment. After hair drying for smoother and easier stylisation. Or as an everyday protection.
PLUSES:
four oils in the composition, silky texture, smells really nice, long lasting aroma, beautifies and regenerates hair, easy application, four possible use methods, few drops per application are enough
MINUSES:
costs a lot, glass and very heavy bottle, harmful alcohol and silicones in the composition, in high amounts can weight hair down