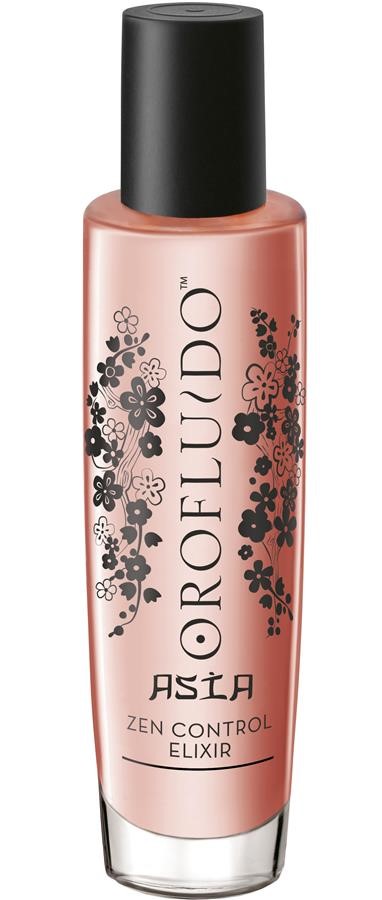 Conditioning oil for frizzing hair
Beauty ritual for hair is provided by Orofluido oils. Revlon did everything in its power to make this product look very elegant. This is a pinch of luxury for hair, where in pink version of Orofluido Asia Zen Control it derives from Asian traditions. Smoothing hair elixir Orofluido Asia was created for frizzing and unruly hair.
Oil is available in only one volume version: 50 ml/1.7 fl. oz.
How does Orofluido Asia work?
The inspiration for creating Orofluido beauty elixir were antique traditions and the best mix of natural ingredients. Thanks to them Asia Zen Control smoothers and ensures gloss to unruly hair. Oil covers hair with special layer, which not only protects hair fibre, but also increases its elasticity and prevents premature grey hair as well as colour loss.
Hair oil limits fly-away and frizzing hair problem. It makes hair easy to comb and style. Revlon Orofluido Asia Zen Control Elixir creates anti dampness barrier, which controls frizzing, while providing softness and stylisation devoid of weighting down.
Filter UV protects strands against harmful sun impact and other external factors.
What oils in the composition?
Orofluido Asia Zen Control Elixir is based on several natural oils. These are as follows: tsubaki oil (Camellia japonica), rice oil sunflower oil. Hair oil was enriched with bamboo extract. When it comes to additional ingredients with beneficial action, there is also vitamin E. Sadly, the formula consists of silicones, preservatives, artificial colourants and fragrances as well.
What should you know about Orofluido Elixir?
Formula:
Sweet, floral scent is the greatest advantage of this product, of course as long as you like floral aromas. Orofluido Asia is runny, so you need more of it for one application. It is absorbed instantly. The formula has slightly pink shade, so it is easy to differentiate this version from the basic Orofluido Elixir.
Packaging:
Revlon Orofluido are oils in glass, long and quite elegant bottles. Heavy bottle made with thick glass in sort of egg-shape is that of a great idea. It is easy to drop it. What is more, there is no applicator and hair oil can be dosed as drops by the delimiter with a small hole.
Application:
Orofluido Asia Zen Control apply on dry or wet hair, this versatility makes the use simpler. Use product on the entire hair length, however, avoid the scalp. This is a leave-in treatment, so it does not require rinsing, yet it can cause greasy scalp. Nonetheless, the best effects are provided when used with the rest cosmetics in Orofluido Asia Zen Control collection.
PLUSES:
three oils in the composition and vegetable extracts, floral and pleasing fragrance, runny and light consistency, absorbs instantly, effectively conditions hair, provides protection, leave-in, suitable for dry and wet hair
MINUSES:
silicones and other harmful substances in the composition, can cause oily scalp, is not efficient, effects only when used with other cosmetics in the same line, inconvenient applicator, glass and easy to break bottle, only one volume possibility, no regeneration