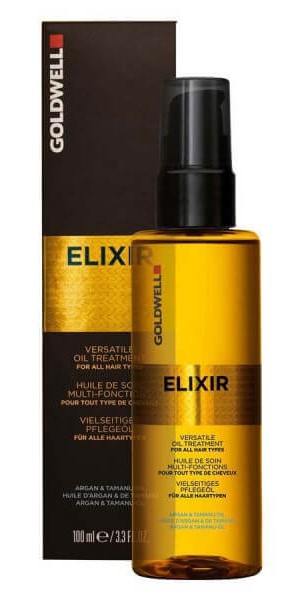 Hair oil for all hair types
Cosmetics by Goldwell are a touch of luxury. If you dream of stunning, glossy strands, then hair oil from this brand can be great solution. It is based on ingredients from far and exotic countries, so it is a favourite to many women all over the world. Check out if it convince you as well.
Oil available in only one volume version: 100 ml/3.4 fl. oz.
How does Goldwell Elixir work?
This deeply regenerating hair oil provides smoother and intense gloss. Thanks to it hair is easier to comb, there is no frizzing and tangling. By using this oil on regular basis, you can easily tame unruly strands.
Hair become light, elastic, smooth and soft, yet still very strong.
Additional quality of Goldwell Elixir is complex hair protection. Oil not only protects hair against unfavourable factors like the Sun, wind and water. It also protects against mechanical damages, e.g. as a result of too invasive brushing or high temperature. In case of visibly weak hair, Goldwell oil will provide regeneration, repair and strengthening to the hair fibres.
What oils in the composition?
Goldwell Elixir holds two natural oils. One of them is Moroccan argan oil and the other is a true vitamin bomb. The second ingredient is tamanu oil. Both natural oils are source of trace elements and essential fatty acids. The cosmetic was enriched with vitamin E, however, you will find there also silicones.
What should you know about Goldwell Elixir?
Formula:
Goldwell Elixir is a product with a rather delicate, light consistency. Is clear and not too thick. In terms of the application is not at all problematic, unless we take into account the possible greasy hair if used in excess amount. Nonetheless, Goldwell Elixir is a hair oil, which really smells beautifully.
Packaging:
As it should be for a good product, Goldwell Elixir is very handy and has a convenient pump. Dosing is easy, and the bottle fits perfectly in the palm of your hand. The bottle is made with a fairly strong plastic, so you don't have to worry that something will happen to the product when you drop it. The bottle has an interesting design with touches of black and gold.
Application:
This is one of few oils that does not require rinsing. Simply apply one to two portions on wet or dry hair. After even distribution of the oil on the strands, wait a moment until the product is absorbed. For long-lasting effect you may want to add few drops of Goldwell Elixir Oil to other products such as, shampoo or conditioner.
PLUSES:
affordable, no alcohol, pleasing scent, does not require rinsing, based on oils, can be mixed with other cosmetics, light-weight consistency, contains vitamin E, elegant design, handy packaging
MINUSES:
silicones, only two natural oils, can cause greasy scalp, quite poor composition, not very effective