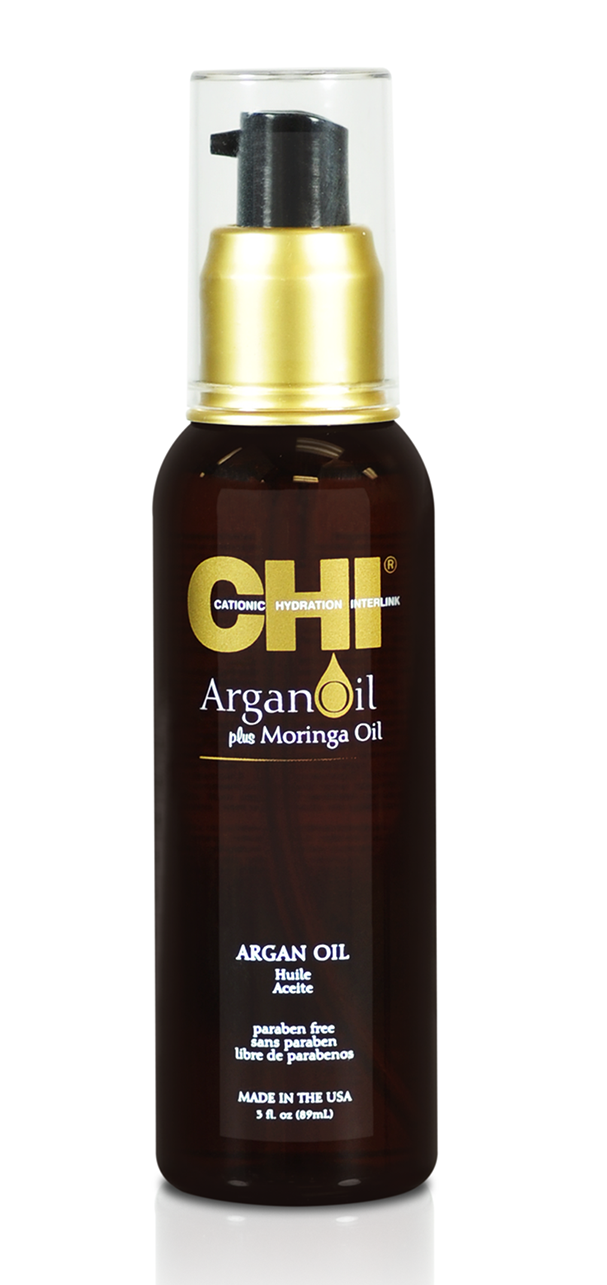 Hair serum with oils
CHI Argan Oil + Moringa Oil is a hair oil created for much easier professional care. Serum, just like conditioner and shampoo in this line, works thanks to two African vegetable oils and this makes it the perfect solution for damaged and matte hair. Find out what CHI Argan Oil has to offer.
Oil available in two volume versions: 15 ml/0.5 fl. oz. and 89 ml/3 fl. oz.
How does CHI Argan Oil work?
Oil based serum, Farouk CHI, is a cosmetic that takes care of hair condition. Due to perfectly developed formula, hair oil regenerates and rejuvenates strands, that lost vitality.
Cosmetic restores natural gloss, makes hair flexible and smoothers it. Hair becomes softer in touch.
However, it is commonly known that weak hair require protection. CHI Argan Oil plus Moringa Oil coats hair with protective barrier, that isolates delicate hair fibres from harmful sun radiation, high temperature and hairdressing tools. Oil based serum Farouk minimises further damages to hair.
Farouk CHI Argan Oil counts more in the protective serum group than in the pure oils group. It perfectly works as a protection for ends. In fact, protection is here more visible than regeneration or conditioning. Oil ensures gloss and smoother, but will not repair damages and is not suitable for the scalp.
What oils in the composition?
As the name indicates CHI Argan Oil Plus Moringa Oil is based on two oils – argan and moringa. These are sadly the only oils in the composition, which were enriched with ingredients such as: silk, vitamins A and E. In the composition are also present silicones, preservatives, fragrances and alcohol with irritating action.
What should you know about CHI Argan Oil?
Formula:
Farouk CHI has typically oily texture. As it should be with the cosmetic of this type it is not runny, what can make its application a bit more difficult. This inconvenience is compensated by quite delicate, perfume scent. Unfortunately, the scent is not something that will go along with everyone's taste, because it is oriental and very sweet. It evaporates pretty quickly.
Packaging:
CHI Argan Oil Plus Moringa Oil can be bought in plastic bottles in colour of dark brown with golden touch. Smaller bottle has no dispenser. Quite wide hole in the bottle can result in spilling too much product at one use. In case of the bigger bottle the problem was solved with convenient pump.
Application:
Cosmetic can be used on dry and wet hair. The advantage is the lack of necessity to rinse it. Nonetheless, it also contributes to oily hair, weighted down with the oil. Small amount of oil administer evenly on the entire hair length and leave to dry. CHI Argan Oil is absorbed quite well by the hair.
PLUSES:
two oils in the composition, fast absorbing, affordable, leave-in, content of vitamins and silk, protects hair against damages, great for hair ends protection, gentle scent
MINUSES:
poor composition, silicones and alcohols, can weight hair down and make hair oily, greasy formula, sweet-oriental smell that is not pleasing to everyone, no applicator in the smaller version, is not efficient